Instant Impact
Going into his senior season, Tyriq Toney-Bailey had high expectations. Basketball has been a part of Tyriq's life for as long as he can remember.
Tyriq has played for various basketball leagues; however, the high school stage was the most prominent. Tyriq has spent his entire high school life as a member of the East basketball program and was honored to be on varsity in his final year. Prior to his final year, Tyriq participated in junior varsity, where he made a strong impact, particularly his junior year. Tyriq revealed that playing on junior varsity "help me understand how to play the best basketball for myself."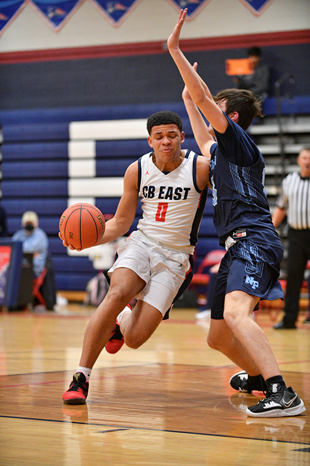 Tyriq was a reserve in his senior year; however, that takes nothing away from his impact on the court. On numerous occasions, when Tyriq checked into the game, the crowd would roar in excitement; for good reason because Tyriq would instantly knock down threes or drive to the basket and score while being fouled. "Having the crowd was awesome because it gave us the energy that we needed." Tyriq earned the title "Sixth Man" when he scored 30 points off the bench. Towards the end of the season, Tyriq was pivotal, particularly in the game that won East the division. Tyriq led all scorers with 11 points and hit three three-pointers, which helped the Patriots to yet another division title. These performances earned Tyriq a start on a senior night, and he did not disappoint, leading all scorers with 14 points over rival West. Although the Patriots did not make a deep post-season run, Tyriq was awarded a spot on the Colonial Division All-League Team.
Tyriq proudly looks back on his high school career as a "memorable time" and cherishes the bonds he formed with his teammates. Tyriq will begin the next chapter of his career playing at Delaware Valley University.