Meet Mariana Russo: Our Local Ecological Artist
The New Hope Arts and Crafts Festival allows for many different people to display their creativity through artwork. Among the numerous booths of the festival sat one vendor, displaying reused and recycled materials put together to create beautiful and unique pieces. Like many other vendors, her booth was small, but set up to methodically display her creations. This particular person is not an ordinary artist though, she is an ecological artist known as Mariana Russo.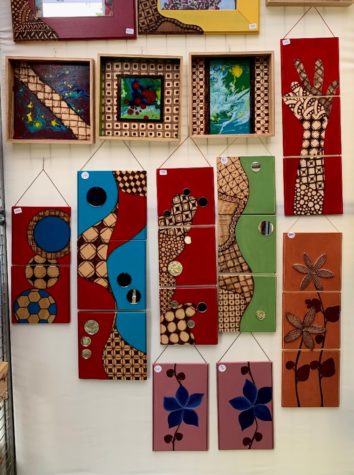 Born and raised in Argentina, Mariana began her art journey at the age of sixteen. Creating artwork from her surroundings, she proceeds to follow this environmentally friendly approach. After finishing high school, she decided to attend a university in order to further her education, still focusing on her creative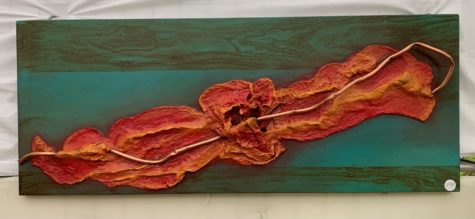 potential. Despite Mariana's blooming passion towards art, she did not exactly take the traditional artist route. Rather than becoming a full-time artist, she assisted her country by joining the Argentinian air force. She eventually parted ways with her country, though, and moved to America—a country she has now lived in for over twenty years. During that period, Mariana has created a variety of artworks, some of which were displayed in her booth at the festival. Her artwork spans a wide range of categories, falling under woodworking, 3D art, as well as other forms of mixed media art featuring recycled materials.
Within the booth, one can lose themselves in moments. With every piece you observe, there are always little details that will leave anyone in awe. Though seemingly simple at first, when learning that each piece was spontaneously brought about after seeing a part of nature—usually flowers and leaves—you gain a spec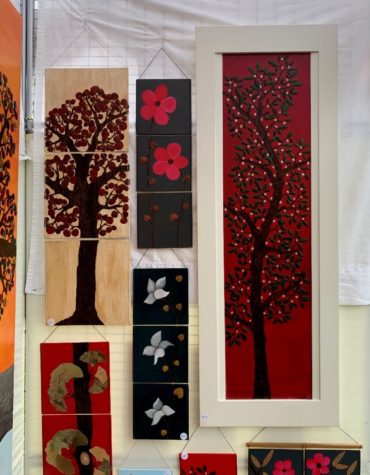 ial appreciation for the piece. Rather than using cloth canvases, Mariana uses wood as the basis for her work whether it be wood burning, painting, or abstract pieces.
A particular displayed piece which has a 3D effect was made from an old wooden cabinet door, a wire, and a glue-like material to add texture. The artwork can be perceived differently by everyone, which is why Mariana rarely gives a strict title to her work. Allowing people's perspectives to steer what they want to see in the work, her main goal is "To be different as a person and to be different as an artist." With this goal clearly being achieved, Mariana's work is recognized in Princeton and numerous other showcases similar to the one in New Hope. Today, Mariana spreads her wood burning knowledge through local lessons and sells her work, finally embracing her passion for art as a more serious part of her life.