School Board Announces Findings of Demographic Study; Potential Reconfiguration and Redistricting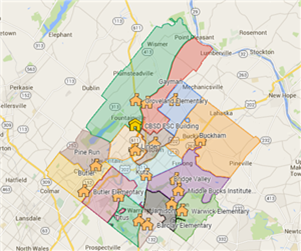 DOYLESTOWN – The school board announced on Friday that it would be considering K-12 realignment as well as closing and redistricting certain schools. The announcement came about three weeks after a special meeting held at Central Bucks West where the research firm Crabtree, Rohrbaugh, and Associates (CRA) presented the findings of a demographics study started in 2019.
The study indicated that, despite overall population growth, enrollment in the district had fallen by over 2,000 students since the peak of enrollment in 2011, a decline that was described as being "the size of many school districts in the Commonwealth." The simultaneous growth of population and decline in student enrollment has been partially attributed to an aging population, that is to say people staying in Central Bucks long after their children have graduated. The enrollment decline is projected to continue into 2030 at which point enrollment would level off to around 15,000 students.
In addition, CRA examined the physical state of several schools and the capital investment required to bring them up to standard, which would total several millions of dollars. Along with this, CRA assessed actual use of school facilities. Across the board, it was found that facility use was inefficient. On average, elementary schools were operating at 77% capacity, with some schools such as Barclay operating at over 100% capacity and Gayman operating at less than 60%. A similar trend can be found in the district's secondary schools. Middle schools were operating at about 50% capacity on average and high schools operating around 70%.
The school board, on the recommendation of CRA, outlined a potential course of action to rectify these issues in the announcement sent on Friday. First, to maximize operational efficiency, the school board presented the possibility of realigning elementary, middle, and high schools to be K-5, 6-8, and 9-12 respectively as opposed to their current configuration. This would also allow sixth graders and freshmen more access to higher level classes as well as extracurriculars and athletics at the middle and high schools respectively.
Second, again on the recommendation of CRA, the school board could potentially close Linden Elementary and redistribute the students to Doyle and Kutz as closing Linden would yield the most benefit both financially and operationally more than any other elementary school.
It is important to note that the school board has not made any official decision on these matters and has stated that it wants to hear from the community before any action is pursued. If the community supports these actions, realignment and/or redistricting would most likely take place in the 2024-2025 school year.
The data shows the plan is very much possible. It remains to be seen whether the parents – and more importantly, the school board's constituents – will actually support this. If nothing else, at least the sophomores won't be at the bottom of the pecking order anymore.