Electronics Recycling
Cars lined up in the Holicong and East parking lot on Saturday morning—not for school but for a combined electronics recycling and food drive. State Senator Steve Santarsiero hosted the event from 10am to 12pm with the help of the Junkluggers and the Bucks County Opportunity Council.
The event was evidently popular among residents with a long car line extending out both directions on Holicong Road. It took around 20 minutes to go through the line in its entirety, demonstrating a strong showing of support from the community.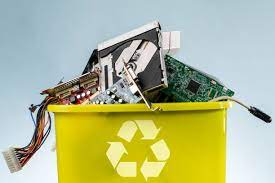 While food drives are well-known as a way of community good, the idea of recycling electronics may be lesser known to some. However, it is an easy way to give back and help the environment by saving electronic waste from ending up in landfills.
After the electronics are collected, their next destination is dependent on their condition. Ideally, electronics can end up being donated to charities for reuse, but as not all electronics may be suitable for use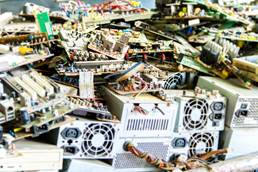 in their current state, they are instead recycled into smaller parts or metals. The former process is called demanufacturing, in which electronics are dismantled "by trained technicians who use a variety of machine and hand tools", while the latter method is called shredding and involves turning the electronics into recyclable metals.
Regardless of where those electronics end up, reusing or recycling is better than sending them to landfills. Elements such as lead and mercury and other harmful substances can leak from improperly thrown away devices, making e-waste dangerously toxic to people and the environment. Furthermore, recycling reduces the amount of mining needed to extract metals as they can simply come from already existing electronics. According to the Environmental Protection Agency, recycling one million cellphones can save 35 thousand pounds of copper and 772 pounds of silver in addition to other metals.
Outside of recycling, reused electronics can be supplied to communities in need. As seen with many school districts in the past several years, including ours, computers have gone from being occasionally used to being a staple of many classrooms. In Central Bucks, this began in 2017 when 1:1 laptops were tested in Holicong, later expanding to other middle and high schools in the district. This shift in school districts was expedited by the COVID-19 pandemic, which necessitated virtual learning, increasing demand for computers. For example, laptops can be dropped off at the Philadelphia Children's Foundation, which requests donations due to a laptop shortage in the School District of Philadelphia.
You can donate a variety of electronics to recycling sites, including computers, phones, and printers. If you are donating a computer that may store sensitive information, recyclers will typically wipe the hard drive to protect your data, but it is still advisable to do it before donating as a precaution. Additionally, it is important to note that it is more difficult to donate TVs and monitors since they used to be made with cathode ray tubes, which are particularly dangerous to handle. For several years now, new TVs and monitors have no longer been made with cathode ray tubes, but as recycling often deals with older devices, recyclers remain cautious of TVs and monitors and may not accept them.
There are a number of places to recycle electronics, including Best Buy and Staples, which both offer recycling services for free. Goodwill has a partnership with Dell and accepts computer donations. Aside from these retailers, the Bucks County government website also lists some sites that accept televisions with a fee. Before donating your electronics, make sure you are doing your research and following guidelines set by the recycler.
Due to modern advancements in technology, electronics have become more essential to our daily lives, increasing the waste we produce. Improper disposal can harm other people and the environment. Responsible recycling is a key to fighting the e-waste problem. You can help strengthen our community and protect the environment by donating your used electronics to a recycler.